The Jamestown Sea Adventure Camp Staff of Rachel Bryer, Lee Dumaliang, Nate Coolidge, Haley Barber, and Katie Dobbin received US Sailing's Community Sailing Award for Excellence in Instruction.
Excellence in Instruction
This award recognizes an individual that has consistently demonstrated excellence in instructing, training, or making presentations at local, regional, or national seminars, conferences, or workshops. Delivery of instruction modules, systems, or services and internal on-the-job training may also be considered.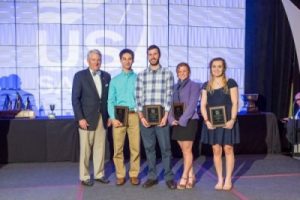 Jamestown Sea Adventure Camp is a sailing and marine education program that runs in one week sessions in Jamestown, RI. The five main staff members named above have worked together for the past three years, and two of the have been part of the program since the first year of camp in 2012. Of the five, three are certified teachers. They are an outstanding group who work together seamlessly and their work ethic is tireless. All five are passionate about teaching kids how to sail and about the ocean environment. They tailor each week's curriculum to the interests of the kids attending that session. As a group, they have instilled a love of sailing to hundreds of kids over the years. "As the Program Manager, I hear constant feedback about our staff and how wonderful they are. They are respectful of each and every student. They are attentive, engaging, and able to create a safe and fun learning environment each and every week, regardless of age group and/or number of students. "I have been blessed to have such an amazing staff for multiple years. Jamestown Sea Adventure Camp is a success because of their efforts," Meg Myles, CISF.
Jamestown Sea Adventure Camp is blessed with an amazing staff! The group gets along famously as a unit. They are creative, flexible, fun, responsible and compliment one another incredibly well. Weekly they are able to tailor the camp's curriculum and activities to meet the interests of the campers. The Sea Adventure Staff truly make this camp what it is – a great camp for outdoor enthusiasts.
Sea Adventure Camp Instructors
Click on each name for more information.
Haley Barber
CISF Program & Director Environmental Science and Arts Educator 

Haley is a native Rhode Islander. She is an incredible asset at Sea Adventure Camp. Her love for children and outdoor education is contagious. She is energetic, intuitive, and a wonderful leader. Haley has her BA in Environmental Education and Early Childhood Education. This will be Haley's seventh year with Sea Adventure Camp.
Fiona Christie
Head Sailing Instructor
US Sailing Level 1 Certified Sailing instructor
Fiona is a Jamestown native. She is a talented sailor and college All-American sailor. She graduated from URI with her degree in teaching and art. Fiona is energetic, smart, and a natural leader. Kids of all ages are drawn to her. While this will be Fiona's first year teaching at Sea Adventure Camp, some of her best friends have been instructors at Sea Adventure Camp, thus she is a natural fit joining the staff.a
Jackson Hawkins
US Sailing Level 1 Certified Instructor

In December, 2017, Jackson completed his hike of the entire Appalachian Trail! Jackson graduated from Tabor Academy and is a freshman at Middlebury College. He is a native Jamestown-er and comes to Sea Adventure Camp with a variety of assets including the ability to sail well, marine education knowledge (Environmental science major), tall ship experience, sailboat racing experience, outdoor education and outdoor survival skills. Additionally, Jackson is wonderful with children of all ages. He is a great decision-maker, and a natural leader. This is Jackson's first year with Jamestown Sea Adventure Camp.
Eric Marshall
US Sailing Level 1 Certified Instructor

Eric is Sea Adventure Camp's first councilor in training. Eric attended one of the first years of camp and was hooked. Eric is currently a freshmen in college and has started a sailing team at his school. 
Heather Moore
Sailing Instructor, Marine Educator, & Artist

Heather grew up in a sailing family in Canada and has been on the water since she was young. She came to Sea Adventure Camp because she is passionate about the marine environment and enjoys sailing, but not racing. Heather has been a councilor in training for a few years and is an absolute asset to Sea Adventure Camp.